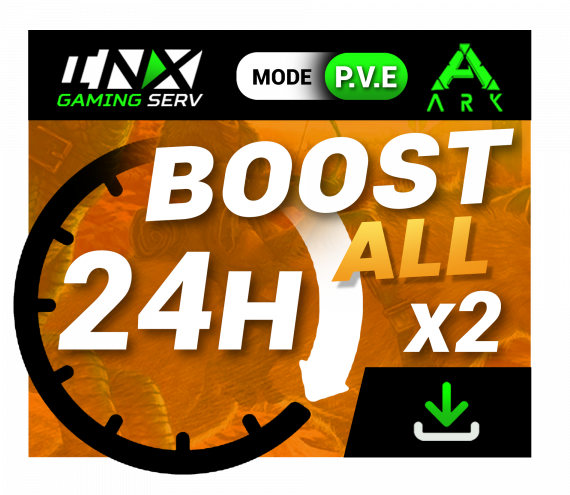 Boost ALL x2 - 24H
4.99EUR
Package Description
Rates Boost x2 ! Xp, Taming, Recolte
Coût : 4.99€.

- Boost votre Récolte, Taming et XP x2 par rapport aux rates du serveur sur votre perso pour 24h (Dinos montés boost également) (Exemple : rates x10 --> x20)
- Poids des objets dans l'inventaire divisé par 4 pour vous et votre dino durant les 24h
- Boost valable sur tous les serveurs Cluster1 + Cluster2 peu importe le choix à la commande
Automatiquement ajouté, le boost est effectif à l'achat pour le perso lié au compte steam de l'achat.

Boost Rates x2 ! Xp, Taming, Harvest
Cost : 4.99€.
- Boost your Harvest, Taming & XP x2 compared to server rates for you for 24h  (Mounted dinos also boost) (Exemple : rates x10 --> x20)
- Items Weight reduce by 4 for your character and your dino during 24h
- Boost available on all servers Cluster1 + Cluster2 no matter the choice in your purshase
Auto add, boost available at the purshase for the player link on the steam account.